SEPTEMBER Day Class Schedule
WEEKEND AND EVENING CLASS SCHEDULE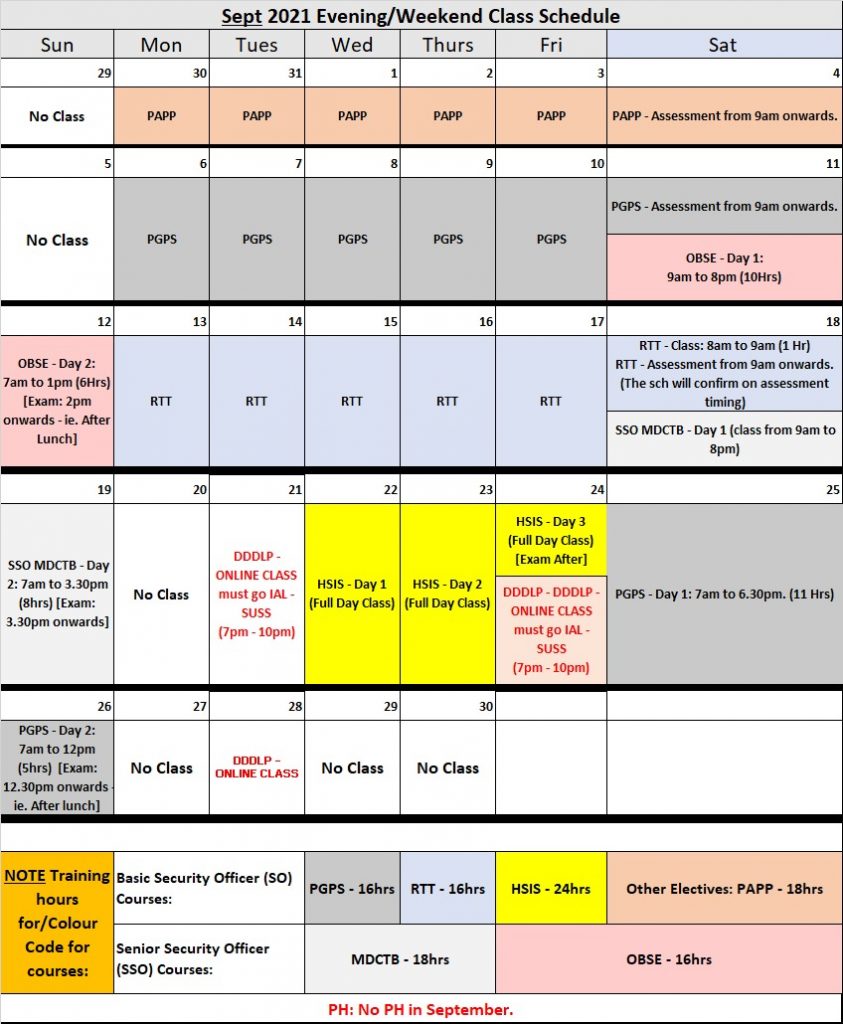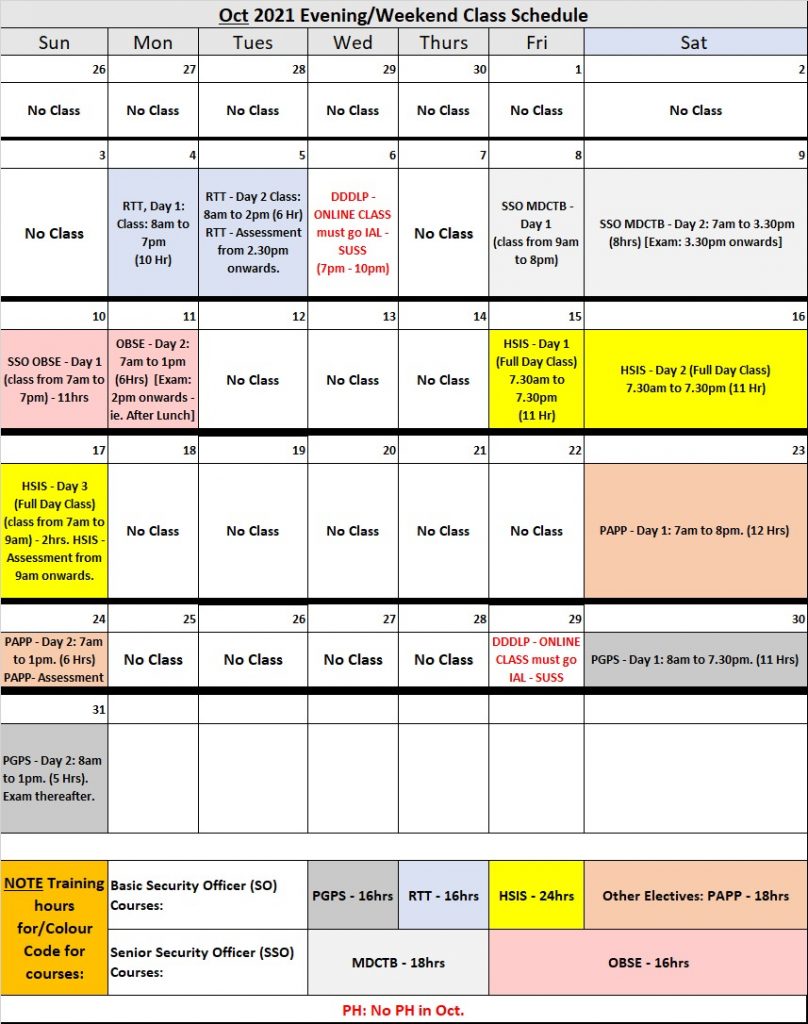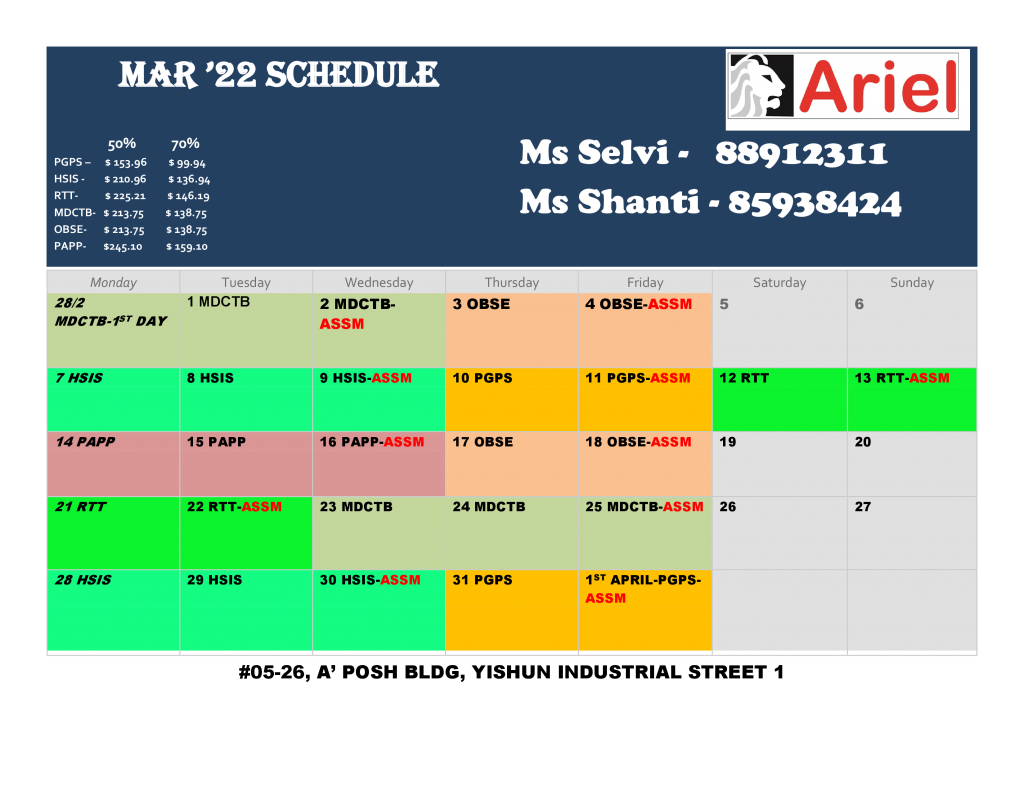 1) All prices for the courses are subjected to GST                                                             
2) Payment is required before course starts for securing the training seats.                                      
3) Payment can be made via Cash or cheque                                                                     
4) Cheque Payment has to be made 3 working days before the start of course                                 
5) Cheque has to be made in the name of: Ariel Security Academy Pte. Ltd            
All the information given in this registration is true and accurate to the best of my knowledge, and, relevant facts are not deliberately omitted.  Any false or misleading declaration shall be made liable for disqualification, if already admitted, for expulsion from the programme without any refund or fees paid.  All the terms and conditions have been read and affirmed. By signing the registrationform, you are giving us the consent to collect all personal data for marketing purposes. Photography/video might be taken during a course of study for publicity on marketing collaterals,social media channels and other communication channels. Participants will be given the option toopt out during the process of photo taking/video recording. Please refer to Ariel Privacy Policy via our website for more details on the Data Privacy Protection Policy. '
I agree to comply and abide by the decision of Ariel Security Academy Pte. Ltd concerning this application.
TERMS AND CONDITIONS                                                                                                   
COURSE REGISTRATION                                                                                                        
All enrolments will only be acknowledged upon receipt of a signed registration form. All details are to be provided. Incomplete forms will not be accepted for registration.
Each Registration Form must be faxed or email to ARIEL no later than 14 workings days before the course commencement.
Trainees are responsible in ensuring that they meet the course pre-requisites. ARIEL will not be liable for any difficulties encountered in the course of training if pre-requisites are not met.
All course deferment, postponement or cancellations are subject to our General Terms and Conditions on Deferment and Cancellation policies.
By signing this registration form, you have agreed to the Terms and Conditions as specified in https://www.Skillsconnect.gov.sg for SDF/WSQ/NICF Grants where applicable.
ARIEL SECURITY ACADEMY Pte Ltd reserves the right to reschedule the course without prior notice due to class size or unforeseen circumstances.
"*Points to note on all SSG Funding application:
 ▪ For SSG-supported certifiable courses commencing from 1 October 2015, trainees need to sit for and pass the relevant examinations/assessments.
 ▪ SSG full set of terms and conditions can be found via https://www.skillsconnect.gov.sg/web/guest/termsandconditions "